Surrounded by a sea of broken rock and mounds of earth on the Somerset coast stands a small, unassuming sign that states simply "R2".
It is here that the second of two nuclear reactors will switch on in the middle of the next decade if all goes according to EDF Energy's plan for Hinkley Point C, proving that Britain can still build new nuclear power stations and, more importantly, providing 7% of the country's electricity.
Only nine months ago the entire £18bn Hinkley project was at risk, after Theresa May ordered a review into China's involvement. But since the French state-owned firm and UK government signed a generous 35-year subsidy deal in September, construction has started in earnest.
The new reactors are being built adjacent to the existing Hinkley Point A and B nuclear power stations, on what was until recently green fields bordering the Bristol channel.
Today it looks more like Mordor, from Lord of the Rings, a scarred landscape and hive of activity driven with a single purpose: ensuring these reactors do not repeat the delays and overspends on the other two European projects using EDF's Hinkley reactor design, at Flamanville in France and Olkiluoto in Finland.
"I think this is by far the most complex thing the country has tried to do," said Nigel Cann, programme and construction delivery director at EDF, as he surveyed the near 500-acre (2 sq km) site.
But he is adamant that they will avoid the problems encountered in Finland and France. "We've got the contractor in very early, that's a lesson we've learned from Flamanville," he said.
Compared to Olkiluoto, where engineers had problems pumping concrete which was too thick, Cann said Hinkley has "stolen a march" by getting the process lined up much earlier.
The other weapon in his arsenal is 4D modelling – 3D modelling over time – which was not available when construction began in Finland in 2005. Such technology is vital because so much is being crammed into a relatively small space.
The sprawling site will be crowded with 52 tower cranes when construction is its peak, up from two now. The site already has the first of three huge concrete batching plants, where concrete mixing lorries queue.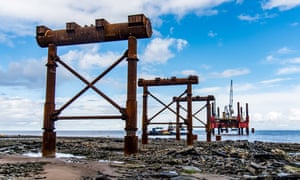 A seawall is being built along the coast, next to the steel pilings that will form a 500m temporary jetty to bring in construction materials such as sand and gravel. Vast piles of earth and rock abound – 3m cubic metres of an eventual 6m has already been excavated, most of it heading to a valley next door.
The first concrete has begun to be poured for the arteries underneath the power station, carrying cables for power, pipes for water and more. Building almost a mile of these underground galleries is Cann's "big ticket" goal for the end of the year, with five miles to be finished in total.
But Hinkley Point C is big in other ways. It involves so many people that much of the current construction is to provide facilities to accommodate and feed them. Around 1,800 are working on the project now, rising to a predicted peak of 5,600.
A 1,500-bed temporary hotel is being built to house workers in a £50m contract with a Nottingham firm. New offices are being thrown up. An internal bus service ferries people around the site, while a 100-strong security force run by G4S patrols it. One of the more unusual jobs is harbourmaster, although most of the work here now involves steel, concrete and earthworks.
Both Lewis and Garth Young, a 31-year-old steel fixer supervisor, bought their first homes in the nearby countryside when they first landed jobs here. The subsequent hiatus on the project last year came as "quite a shock", Young said, and the pair took work in London before coming back.
Many here on site are veterans of another mega construction project, London's Crossrail, and – given Hinkley's location – a good number are Welsh. Half of the workforce are locals, defined as people within a 90-minute travel radius.
The next generation of workers destined for Hinkley are up the road at Bridgwater & Taunton College, which is part-funded by EDF. Molly Burns-Lalic, 23, is the first of a cohort studying for a fee-free degree in quantity surveying and commercial management.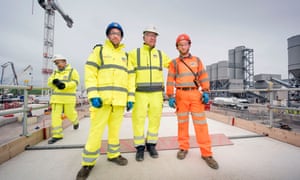 "It's a growing industry, isn't it? We're all fairly local, and it's a big thing round here," she said of nuclear power's appeal. "I never went to uni, so this course gives me a degree without having to go to uni and have all the debt."
While the construction workers preparing the site now are paid about £45,000 on average, not all are happy. Unions raised the threat of delays amid a dispute over bonuses between unions and EDF's main civil contractor, the French-British consortium Bylor.
"EDF have kicked the can down the road long enough on this bonus issue on civil construction. They now need to negotiate," said Phil Whitehurst, national officer for construction at GMB . Unions are consulting soon on whether to ballot for a strike.
EDF said it is "committed to a continuing dialogue" and Cann expects an agreement to be reached within a fortnight.
At the entrance to Hinkley Point C, an electronic clock marks the 720 days until "J0", jour/day zero, the moment when the first reactor's foundation is due to be poured. EDF executives will be watching the industrial dispute anxiously, hoping they don't have to put back the date.
Hinkley Point's potential pitfalls
Concrete
EDF has already built dummy buildings on the Hinkley construction site using nuclear grade concrete, to ensure it gets it right when it comes to building the project's "nuclear island" in two years' time. But the experience in Finland, while not a project run by EDF, suggests this could still prove tricky.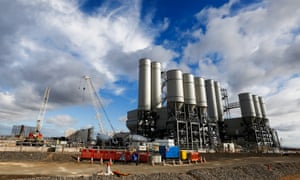 Brexit
Any post-EU restrictions on freedom of movement could affect Hinkley and its highly specialised work, as the EDF chief executive, Vincent de Rivaz, alluded to recently. The UK's decision to leave the Euratom nuclear cooperation treaty while exiting the EU could also throw a spanner in the works. New bilateral deals must be put in place to ensure nuclear materials can continue to arrive in the UK.
Manufacturing
EDF's nuclear building partner, Areva, has come in for unusually strong criticism from the UK nuclear regulator over irregularities at a key forge in France that was set to make parts for Hinkley. However, De Rivaz has said the forge's problems will have "no impact" on Hinkley. EDF also has the option of using another forge in Japan.
Unions
The Unite union has described the bonus rate on offer for workers as "derisory" and insufficient to attract and hold on to the quality of workers that Hinkley needs for the project to be delivered on time. It remains to be seen whether the row will escalate.
Politics
The unexpected election of a Labour government would likely have little impact – the party supports new nuclear power stations – but the French presidential election could. Marine Le Pen's aides recently said that if she won, she would review the contract for Hinkley Point C and look for exit options, to allow EDF to concentrate on nuclear projects at home.