DEVELON, formerly Doosan Construction Equipment, entering the European Dozer Market with the launch of the New DD130 Dozer Model
DEVELON, formerly Doosan Construction Equipment, has entered the European dozer market with the launch of the new DD130 model. The new DD130 dozer offers a wide range of features of interest to customers, resulting in a productive fine-grading solution for residential and light commercial construction projects.
High Visibility
One of the biggest differences between the DD130 and other dozer brands is the visibility the DD130 provides of the machine's dozer blade. To facilitate this, the front engine compartment offers a narrower design to make it easier for operators to see their work. Other aspects of the DD130 that provide optimum visibility include:
The precleaner is also tucked away in the engine compartment to maximize front visibility.
Relocating the electronic cooling system to the back of the dozer has further improved
front visibility.
The cab's low-profile front pillars provide maximum glass area.
The all-glass doors provide a full view of the working environment.
For further visibility and safety, a standard rearview camera provides operators with an
additional view of the dozer's surroundings. The full-colour, 8-inch Smart Touch display shows the feed from the rearview camera. Also standard are high-illumination LED lights and four premium wiper blades.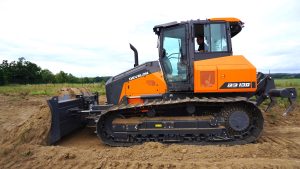 Full Comfort
The DD130 offers a high level of comfort with a premium high-quality seat. The operator has total control of the machine via two smooth and precise, fully electronic joysticks. The seat and joysticks move together via the air suspension system, to absorb all vibrations.
Advanced Technologies
Advanced technologies in the DD130 dozer deliver more precision to help operators meet
exacting specifications. A 2D grading system (dozing assist) makes precision grading easier, even for novice operators. The operator programs the needed inputs, and the machine controls blade functions to finish the job faster and with better accuracy. No GPS or lasers are required.
Smooth Serviceability
The DD130 comes standard with an electronically operated tilting cab that provides access to internal components. Even with the cab tilted, the dozer can be started while the machine is being diagnosed or repaired.
An in-line precleaner, which comes standard, helps improve filter life and is integrated with the air cleaner. Super compact to fit in the engine compartment, self-cleaning and maintenance-free, the intake system can expel a variety of debris, including mud, snow, leaves, sawdust and chaff.
The dozer undercarriage is designed for convenience and cost-effective maintenance. Areas of the undercarriage that naturally experience greater wear and tear are easy toaccess. For example, a removable side panel provides access to an area to add grease to the undercarriage's tension system. Customers can order replacement parts through their local dealer.
A telematics system is a standard feature on the DD130 dozer, making it easy for customers to remotely monitor and maintain their machine. They can monitor the health, location and productivity of the dozer from a user-friendly mobile app and website. The customer's dealer can also see the equipment status and notify them when it is time for a service to minimize machine downtime
DD130 Dozer Specifications
Engine power (gross): 117 kW (156.9 HP)
Operating weight: 15,300 kg
Standard LGP Blade width: 3300 mm with 3 m in transport position (3.5 m3 capacity) and 710 mm shoes
Optional LGP Blade width: 3655 mm with 3.35 m in transport position and 760 mm shoes
Optional XL Blade width: 3105 mm with 2.87 m in transport position and 560 mm shoes
Blade angle: 25 degrees
Drawbar pull: 21,999 kg
Travel speed, max: 9 km/h (5.6 mph)
Dozer cab is ROPS/FOPS certified
For more on DEVELON, please visit the website: https://eu.develon-ce.com/en/